| | | |
| --- | --- | --- |
| | Northrop Grumman - USN - Broad Area Maritime Surveillance | |
| | |
| --- | --- |
| | United States Navy - Global Hawk - MQ-4C BAMS Model |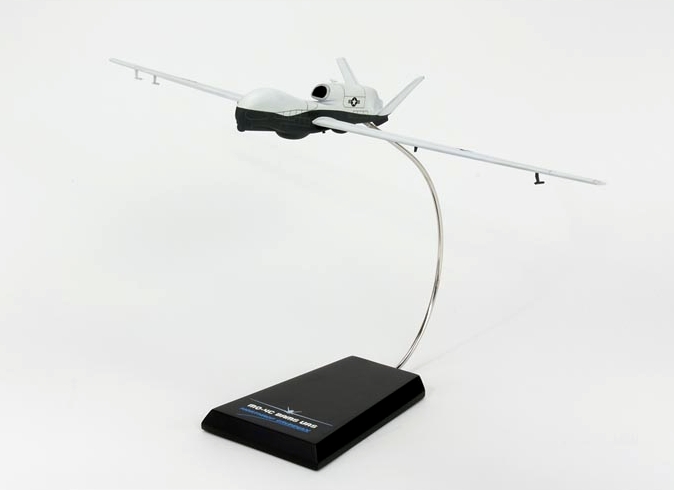 Northrop-Grumman
MQ-4C BAMS Global Hawk
US NAVY - Broad Area Maritime Surveillance
UAV-UACV
Resin Model
Price: $169.00
$16.90 s/h in continental US
Click here for USAF RQ-4A Global Hawk
USAF Global Hawk (UAV)
The Global Hawk unmanned air vehicle (UAV), designated RQ-4A, is one of the primer intelligence surveillance and reconnaissance collection aircraft of the Iraq war. Capable of long endurance missions at 60,000 feet or above, it provides extended coverage, near-real-time multi-sensor support to the theater commander and his deployed forces. The Hawk is a relatively large aircraft with a 116 foot wingspan, 44 feet in length, 26,000 pound take-off weight, capable of 30 hour missions with a 3,000 nautical mile range.
Northrop Grumman - USAF Global Hawk
Shipping Info: The majority of these desktop models are in stock and ship within two to three days of your order. However, in some cases they will be backordered. Delivery times can sometimes range up to three months in some cases. In the event of a backorder we will notify you via email on the status of your expected delivery time. Thanks for your patronage!
Display Stands: All Desktop Display Models come with a wooden base for desktop or shelf display.
Order Now To Reserve Your Model
Limited Quantities Available
Silent Thunder Models© - Copyright 2000-2012