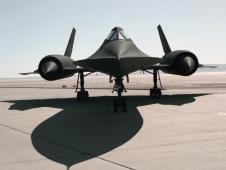 During the 1990s two SR-71 Blackbird aircraft were used by NASA as testbeds for high-speed and high-altitude aeronautical research at Dryden. The aircraft included an SR-71A and SR-71B (the trainer version), loaned to NASA by the U.S. Air Force.

Additional Information

The SR-71, the most advanced member of the Blackbird family that included the A-12 and YF-12, was designed by a team of Lockheed personnel led by Clarence "Kelly" Johnson, then vice president of Lockheed's Advanced Development Company Projects, commonly known as the "Skunk Works" and now a part of Lockheed Martin Corp. The Blackbird design originated in secrecy during the late l950s with the A-12 reconnaissance aircraft that first flew in April 1962 and remained classified until 1976. President Lyndon Johnson publicly announced the existence of the YF-12A interceptor variant on Feb. 29, 1964, more than half a year after its maiden flight. The SR-71 completed its first flight on Dec. 22, 1964. More than a decade after their retirement the Blackbirds remain the world's fastest and highest-flying production aircraft ever built. The Blackbirds were designed to cruise at Mach 3.2, just over three times the speed of sound or more than 2,200 miles per hour and at altitudes up to 85,000 feet. The extreme operating environment in which they flew made the aircraft excellent platforms for conducting research and experiments in a variety of disciplines: aerodynamics, propulsion, structures, thermal protection materials, high-speed and high-temperature instrumentation, atmospheric studies and sonic boom characterization. SR-71 activities at Dryden were part of NASA's overall high-speed aeronautical research program and involved other NASA research centers, other government agencies, universities and commercial firms. Data from the SR-71 research program will aid designers of future supersonic/hypersonic aircraft and propulsion systems.