Back to Main NASA Models Page
NASA - Space Shuttle Endeavour with Full Stack - 1/200 Scale Plastic Model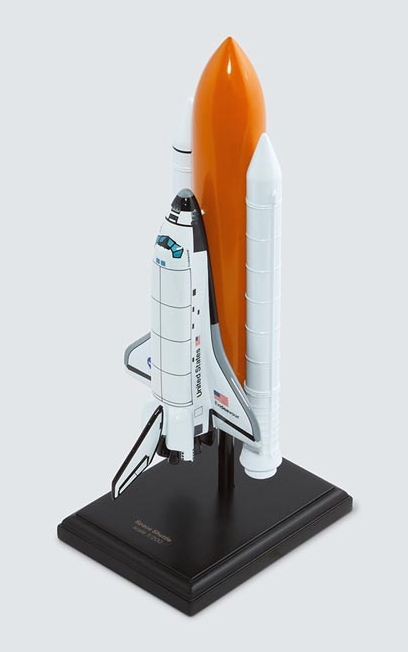 NASA
National Aeronautics and Space Administration



Space Shuttle Orbiter Endeavour Model
with Full Stack
1/200 Scale Model
Price: $159.00
$15.90 s/h in continental US
DESKTOP Fully Assembled Plastic Display Model
Painstakingly detailed and fully assembled, this model includes a stand for desktop or shelf display. This high quality replica is handcrafted from plastic and comes with a wooden display base.
NASA Space Shuttle Endeavour (OV-105)
Space Shuttle Endeavour is one of the currently operational spacecraft in the Space Shuttle fleet of NASA and was the final NASA space shuttle built.

In 1987, Endeavour was authorized by the United States Congress to replace Challenger, which was lost in an accident. Endeavour's assembly was composed of structural spares from the construction of Discovery and Atlantis. Endeavour was named through a national competition comprising of students in elementary and secondary schools. In May 1991, Endeavour was delivered by Rockwell International and was launched a year later. In 1993, Endeavor made its first service mission to the Hubble Space Telescope. In December 2003, Endeavour completed its latest Orbiter Major Modification period and ended on October 6, 2005 and during that time, Endeavor received major hardware upgrades with new, multi-functional, electronic display system, GPS and with safety upgrades by the Columbia Accident Investigation Board.

As of August 2007, Endeavour has flown 20 flights, spent 219.35 days in space, completed 3,259 orbits and has flown 85,072,077 miles. In 2010, Space Shuttle Endeavor will be decommissioned after 18 years of service, along with Discovery.
Silent Thunder Models© - Copyright 2000-2016