Back to Main NASA Models Page
NASA - BIG Apollo Saturn V - Moon Rocket - 1/100 Scale Mahogany Model - 1967-1975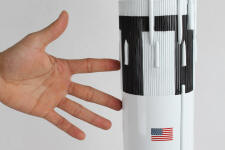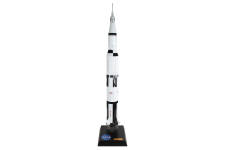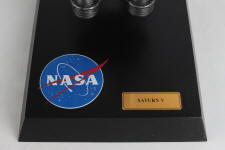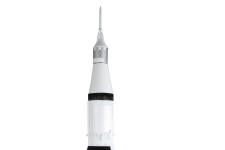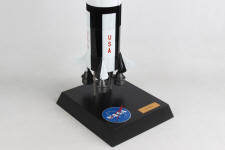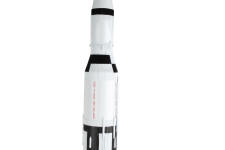 Click on image for a larger view
NASA
National Aeronautics and Space Administration



BIG - Apollo Saturn V Moon Rocket Model - 1967-1975
Launch Carrier Vehicle (LCV)
1/100 Scale Mahogany Model
Price: $629.00
$50.32 s/h in continental US
Scale: 1/100
Saturn V (Saturn 5), America's Moon Rocket, is still the largest and most powerful U.S. expendable launch vehicle ever constructed. The Moon Rocket was designed under the direction of Wernher von Braun at the Marshall Space Flight Center in Huntsville, Alabama, with Boeing, North American Aviation, Douglas Aircraft Company, and IBM as the lead contractors.

The Saturn 5 was used for NASA's late 1960's / early 1970's Apollo Moon Program and for the launching Skylab Space Station in the 1970's. All Saturn V missions launched from Launch Complex 39 at the John F. Kennedy Space Center. After the rocket cleared the launch tower, mission control transferred to the Johnson Space Center in Houston, Texas.

Officials from the Department of the Interior referred to the Saturn V as "a unique engineering masterpiece that formed the key link in the chain that enabled Americans to travel to the moon. The success of the Saturn V made possible the success of the American space program." The Saturn V at the United States Space and Rocket Center was delivered by Marshall in 1969 after all three stages were taken from the Center's Dynamic Test Stand.
July 20th, 1969...American astronauts Neil Armstrong and Buzz Aldrin take the first steps on the moon. Recapture the glory and success of the U.S. Moon landing program with this BIG 1/100 scale replica of the Saturn V Apollo Moon Rocket. Painstakingly detailed and fully assembled, this model includes a stand for desktop or shelf display.
Silent Thunder Models© - Copyright 2000-2021