Back to Main Helicopter Models Page
Sikorsky/Erickson - S-64 Skycrane Helicopter - 1/48 Scale Mahogany Model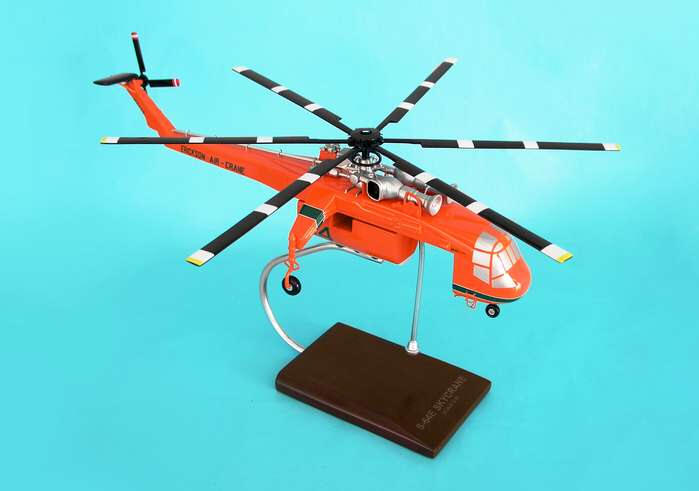 Sikorsky
Erickson S-64 Air-Crane
Skycrane
1/48 Scale Mahogany Model
Price: $0.00
$0 s/h in continental US
Scale: 1/48
DESKTOP Fully Assembled Mahogany Display Model
DISCONTINUED / OUT OF STOCK
Painstakingly detailed and fully assembled, this model includes a stand for desktop or shelf display. This high quality replica is handcrafted from mahogany and comes with a wooden display base.
Sikorsky S-64 Skycrane
The Sikorsky S-64 Skycrane could lift more than 20,000 pounds (9,072 kilograms). The skycrane is exactly as its name implies—an aerial crane, nothing more. It has a cockpit pod at the front of a long boom equipped with landing gear mounted on outriggers. This provides a large open area under which the carried load is connected to the fuselage. Skycranes were used in 1972 when the Chesapeake Bay Bridge connecting Maryland and the Eastern Shore was being built to bring concrete and other supplies to the construction site. In 1993, an Erickson aerial Skycrane, normally used for hauling lumber in Oregon, was used to remove the "Statue of Freedom" from the top of the Capitol dome in Washington, D.C. The statue was placed on the ground while it was being cleaned and restored before being gently returned to the top of the dome, once again with a Skycrane.
Silent Thunder Models© - Copyright 2000-2012