Back to Main Helicopter Models Page
USN - MQ-8B Fire Scout Helicopter - 1/24 Scale Mahogany Model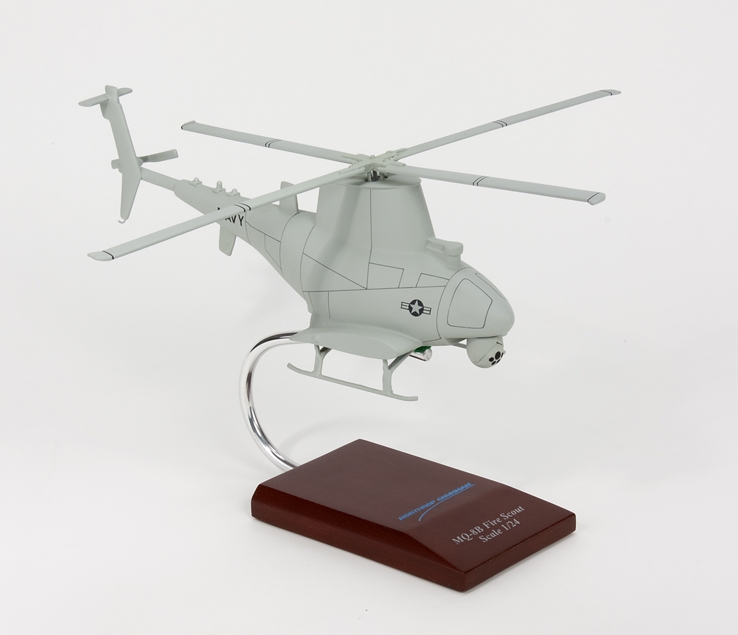 United States Navy
Northrop Grumman
MQ-8B Fire Scout - Unmanned Autonomous Helicopter
Helicopter Model
1/24 Scale Model
Price: $239.00
$19.90 s/h in continental US
Scale: 1/24
DESKTOP Fully Assembled Mahogany Display Model
The MQ-8 Fire Scout is an unmanned autonomous helicopter developed by Northrop Grumman for use by the United States Armed Forces. The Fire Scout is designed to provide reconnaissance, situational awareness, and precision targeting support for ground, air and sea forces.

The MQ-8B features four-blade main rotor, in contrast to the larger-diameter three-blade rotor of the RQ-8A, to reduce noise and improve lift capacity and performance. The MQ-8B is fitted with stub wings which serve both an aerodynamic purpose as well as an armament carriage location. Weapons to be carried include Hellfire missiles, Viper Strike laser-guided glide weapons, and in particular pods carrying the "Advanced Precision Kill Weapon System (APKWS)", a laser-guided 70 millimeter (2.75 inch) folding-fin rocket, which is ideal for the modern battlefield. The MQ-8B can also be used to carry up to 200 pounds (90 kilograms) of emergency supplies to troops in the field.
Painstakingly detailed and fully assembled, this model includes a stand for desktop or shelf display. This high quality replica is handcrafted from mahogany and comes with a wooden display base.
Northrop Grumman - MQ-8B Fire Scout Helicopter
Silent Thunder Models© - Copyright 2000-2012